Veteran Profiles & Memorial
DMHS Vietnam Memorial
Class of 1968 Veterans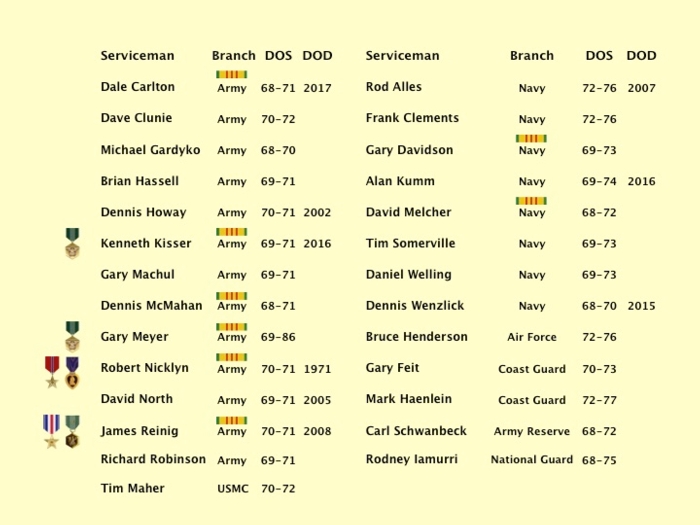 Veterans' Project Profiles
Nine million Americans served in the military during the eleven years of the Vietnam Era ending May 7, 1975. Over three million would serve in Southeast Asia during the Vietnam War, with nearly 60,000 U.S. deaths and more than 150,000 wounded.
Vietnam and Vietnam Era veterans are too often reluctant to share their experiences. Due to the controversy over the war and the reaction many experienced upon returning home, these men and women have carried a greater burden than did their counterparts from earlier wars. They put away their uniforms and medals and tried to camouflage their memories. These veterans would live and work side-by-side with other veterans unaware of their common experience, unable to share the memories that cannot be forgotten.
Fifty years after graduation, nine military veterans of Douglas MacArthur High School's Class of 1968 are deceased. Four of the nine served in Southeast Asia. The initial scope of the Veterans' Profile Project was to write profiles for all nine deceased servicemen and give these veterans a voice so we can better understand their experiences from a perspective of military service that is neither romanticized nor demonized, aged 50 years and rendered simply humanized.
The Vietnam War, however, was very different from any other previous war fought. Vietnam was the first American war that could not be recalled with pride. The stories and the lessons learned were seldom shared with friends or family. Vietnam Era military service was unspoken, hidden and forgotten. Faced with the indifference of surviving family members with little or no service information, the project was reduced to the four deceased classmates who had served in Vietnam; Dale Carlton, Bob Nicklyn, Jim Reinig and Ken Kisser.
Click on their names to read their profiles.