Your Reunion Committee
The Saginaw committee had its 1st meeting on July 19, 2017 at Levi's Restaurant with 6 gals present. Our 2nd meeting on September 20th had a few more people, including one guy!
Kirk Dennis, Mike Gardyko and Jim Wilber expressed a desire to join in via Skype, so the meeting was moved to the home of Cyndy Iler Lange. This meeting had 11 classmates present, and 3 joining in on the tablet.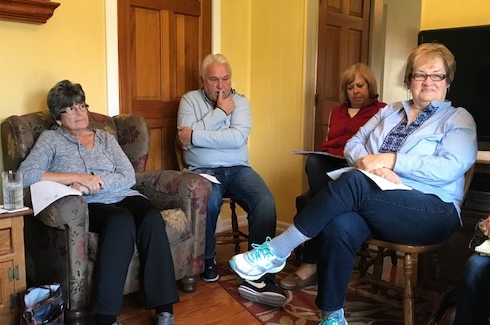 (Ruth, Rod, Cyndy, Linda)
With the guidance of Jim and Kirk, we set up sub-committees, most important of which is the STEERING COMMITTEE. With these committees in place, a lot of decisions can be made before our next live meeting on January 10, 2018.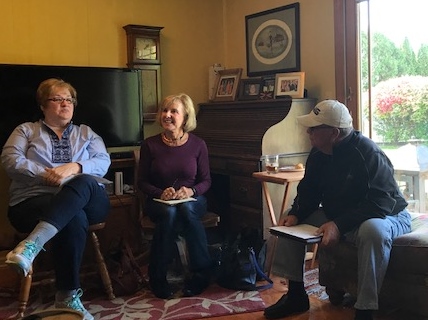 (Linda, Patty, Ron)
PATTY CURRY RAYMOND parluvstvl@aol.com SAGINAW MI Steering/Banquet
RON DASHKOVITZ ronald.dashkovitz@yahoo.com SAGINAW MI Banquet
MINDY DAVIS MOELLER Mindy.moeller48198@gmail.com YPSILANTI MI Classmate Contact
KIRK DENNIS kirk@kirkdennisassoc.com FORT LUPTON CO Steering/Website
EILEEN FLATTERY MEYER xleener1@aol.com HEMLOCK MI Classmate Contact
MICHAEL GARDYKO gardyko@gmail.com TRAVERSE CITY MI Steering/Website/Classmate Contact/Veterans Project
SALLY HISER BANDEMER sab226@comcast.net CLINTON TWP MI Power Pt Presentation/Website/Name Badges
LINDA HOULIHAN CARDOZO ldcardozo@verizon.net SARASOTO FL Classmate Contact
RODNEY IAMURRI bigrsi@charter.net SAGINAW MI Golf Outing/Mailer/Website
CYNDY ILER LANGE langmagally@aol.com SAGINAW MI Steering/Banquet/Website
RUTH KENNEDY SIMONS R2kool@charter.net SAGINAW MI Classmate Contact
SANDY KOCH SANDEL Ssandel924@aol.com ALMA MI Co-Treasurer/Steering
DENNIS MCMAHAN dmcmahan224@charter.net FREELAND MI Co-Treasurer/Steering
LINDA MOLL BLOOM bloomlinda@att.net SAGINAW MI Classmate Contact
NANCY OLLERMAN MYRON RoseQBE@aol.com SAGINAW MI Web Site/Classmate Contact
KAYE REEVE WIERDA wierda.kaye@gmail.com CASTLE PINES CO Classmate Contact
ELAINE STARK MCCARTY emc9240@comcast.net DAVISBURG MI Classmate Contact
JAMES WILBER jswilber@att.net RACINE WI Steering/Website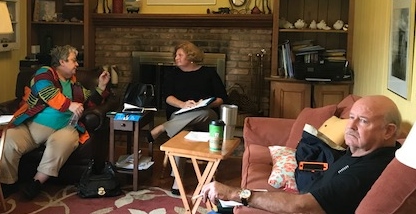 (Nancy, Sally, Denny)