Memorial List
Ricki Bushey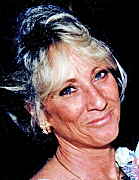 Bushey, Ricki Susan
Saginaw, MI
With her loving family at her side, Ricki went to be with our Lord on January 9, 2015, after a lingering illness. Age 64 years.
Ricki Susan Bushey was born in Saginaw July 31, 1950 to Virginia (Parker) and the late Duane Bushey. She attended Saginaw Township Schools and Ferris State University.
Ricki is survived by: her son and his spouse, Justin and Jennifer Stuart; three grandchildren, Cameron Brandon Stuart, Olivia Elise Stuart, and Julia Laine Stuart; her mother, Virginia Bushey; her brother and his spouse, Robert M. and Cheryl Bushey; her former spouse, Robert Stuart; and a very special friend, Jan Perry Bushey. She was predeceased by a son, Brandon Bushey Stuart.
Funeral service will take place 11:00 a.m. Thursday, January 15, 2015, at the W. L. Case Chapel, 4480 Mackinaw Rd. Rev. Kathleen Basner will officiate with burial in Roselawn Memorial Gardens. Friends may visit with the family at the Chapel on Wednesday from 6:00 to 8:00 p.m. and on Thursday from 10:00 a.m. until the time of service. Those wishing to make an expression of sympathy may consider the Shriner's Children's Hospital or St. Jude Children's Hospital.