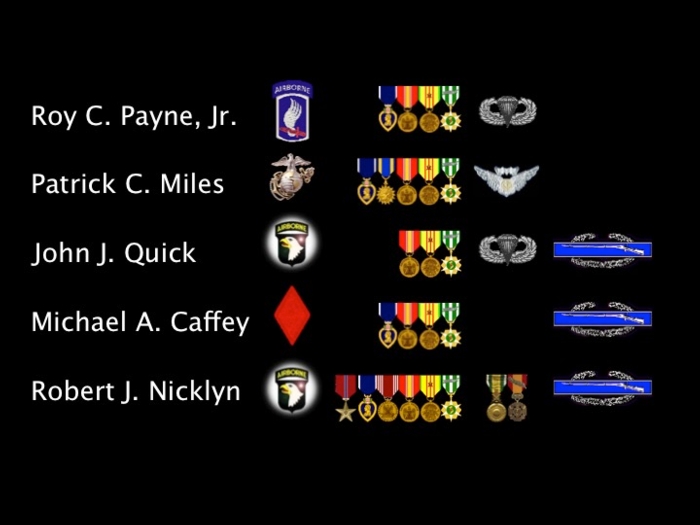 Five names on the Vietnam Wall in Washington D.C. are Generals
– Douglas MacArthur High School Generals.

Roy Payne, Jr., Class of 1965, served as a paratrooper in the 173rd Airborne Brigade assigned primarily to headquarters duties. During a November 1967 combat operation, he died in one of the worst friendly fire incidents of the Vietnam War.
Ironically, our high school's first casualty occurred during an operation code named – MacArthur!

Patrick Charles Miles, Class of 1965, served as an Aviation Electronic Systems Technician and Door Gunner aboard a Sea Knight, an assault and transport helicopter in Squadron 262, 1st Marine Aircraft Wing.
In August 1968, during an attempt to rescue the downed crew of another aircraft, his helicopter received a direct hit from a North Vietnamese heavy artillery round. The two pilots were ejected during the ensuing explosion and survived, while their crew of three did not.

John Quick, Class of 1966. His exploits in the jungles of Vietnam are cited in at least two published books. John left school in October 1965 and enlisted prior to graduation. He served first as a paratrooper in the 82nd Airborne Division, Fort Bragg, NC. There he attended Ranger school and developed both stealth and uncanny survival skills.
John volunteered for Vietnam and assignment to the LRRPs of the 101st Airborne Division. LRRPs are Long Range Reconnaissance Patrols - teams of six men, silent invisible men, heavily armed, who patrol deep into enemy territory for long periods of time. These were elite paratroopers with a casualty ratio of 1 to 400 of their enemy.
John had many close calls and near death experiences in Vietnam. None were closer than his last patrol, but he is remembered most for his last night in Vietnam.
The night before John was to leave base camp for Bien Hoa to begin his journey home, he had a party. It was a raucous party with his fellow LRRPs and a chopper crew that had recently saved his life.
John drank heavily. John Quick was known to eat almost anything he foraged in the jungle when on patrol – RAW. Someone arrived with a colorful toad from the paddy by the chopper pad. Someone else made a DARE and John – swallowed the toad WHOLE.
The next morning John missed his chopper to Bien Hoa. The company clerk found John in his bunk. The excessive amount of alcohol he'd consumed together with the toad's toxic skin had caused John Quick's heart – TO STOP.
Of the over 58,000 names on the Vietnam Memorial in Washington D.C. – more than 11,000 died from accidents, illness and other causes, not from wounds suffered during combat. Neither they nor John Quick were awarded the Purple Heart as they were not lost in a hostile action.

Michael Caffey, Class of 1966, served as a Infantryman in the 5th Infantry Division. He lost his life during an assault on his defensive position in Aug 1970.

Robert Nicklyn, Class of 1968, served as a Combat Infantryman & RTO - Radio Telephone Operator in the 101st Division (Airmobile).
Bob knew his job and he was good at it. Able to read a topographical map, he'd call in precise coordinates for artillery and air support. Working closely with his Non Com, SGT Tony Dooley, he kept his squad safe.
In April 1971, Bob and SGT Dooley were shot during an ambush on his 107th day in Vietnam. He and the sergeant had been targeted in an attempt to eliminate both communication and command.
On May 11, 2019 former SGT Tony Dooley of Atlanta, Georgia attended a medals presentation to the Nicklyn family conducted by the DMHS Class of 1968 Veterans' Project. Twenty-five Nicklyn family members and Vietnam veterans attended the presentation.
In Vietnam, Bob was called 'Nick' by his squad members. Most of his classmates at Douglas MacArthur called him friend. We are reminded of his good nature, humor and that infectious Nicklyn smile.
From the DMHS 1968 Reunion Presentation entitled "1968". http://www.douglasmacarthur68.org/Veterans-Project-Presentation.htm