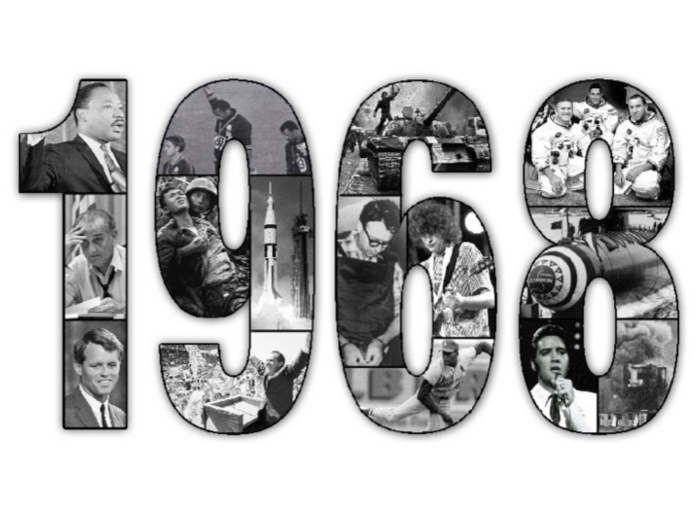 1968 was perhaps the most chaotic, turbulent, and influential 12-month period in American history. It saw both a political and a social giant assassinated, a war take on a new meaning, and a nation take on an entirely new mind-set. Known for its grave negativity, the year still had its share of memorable events, although few.
War, racial and class conflict, violent protests, race riots, Gestapo-like police tactics and assassinations were the hallmarks of 1968. And still to this day, now 50 years later, our nation feels the historic impact.
But, what was on the mind of a Douglas MacArthur High School senior in 1968?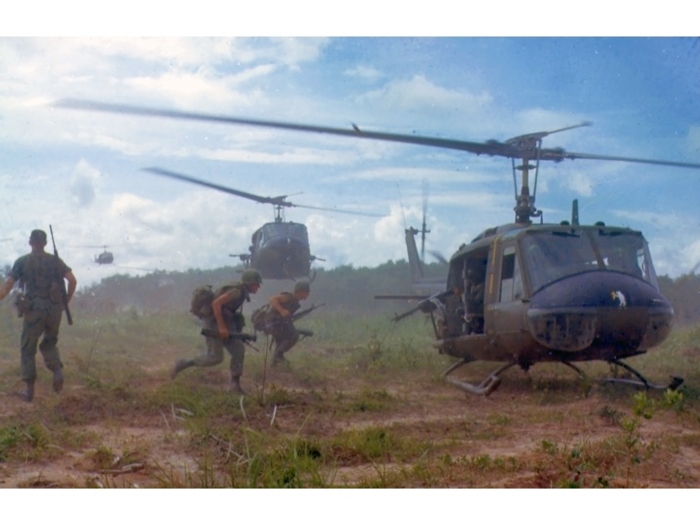 Perhaps V I E T N A M . . .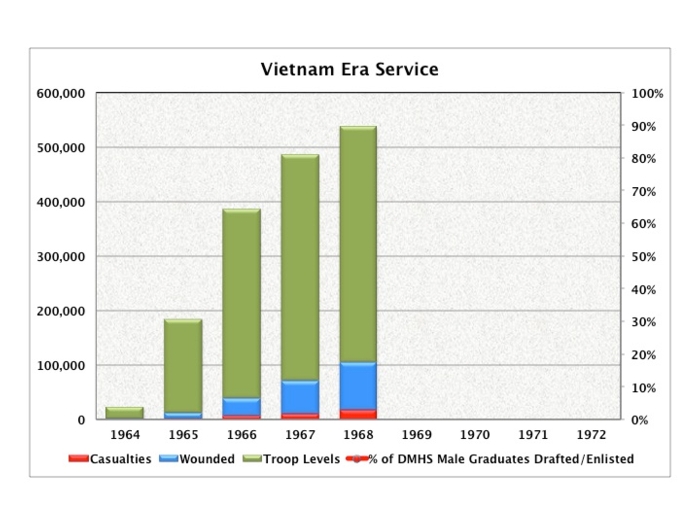 By the end of 1968:
US troop levels in Vietnam reached 536 thousand.
37 thousand American lives had been lost.
181 thousand Americans had been wounded.
The END was not in sight….AND.... there was the D R A F T !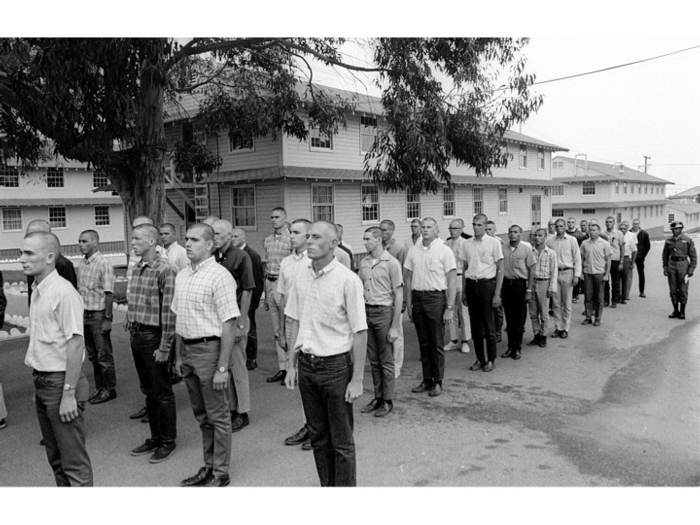 The Selective Service Act of 1968 expanded the draft:
Ages 18 to 35 could be inducted.

Draft deferments for most graduate students

were abolished.

The Selective Service still granted student

deferments, but ended them upon either the

completion of a 4-year degree or the student's

24th birthday, whichever came first.

Students earning less than 15 credit hours,

lost their deferments.

Married men with children, lost their deferments.

300 thousand young men would be drafted in 1968.
US troop levels in Vietnam reached their peak in 1968.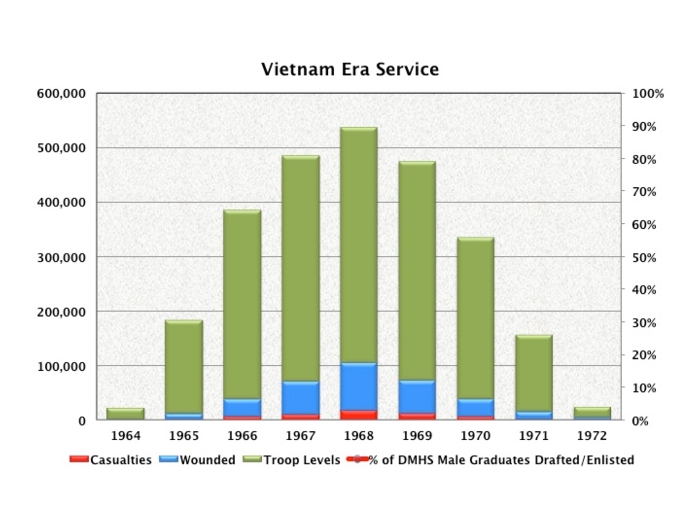 Facing intense pressure from a war-weary American public and widespread anti-war and anti-draft protests, troop reductions began in 1969 and continued throughout the early '70's.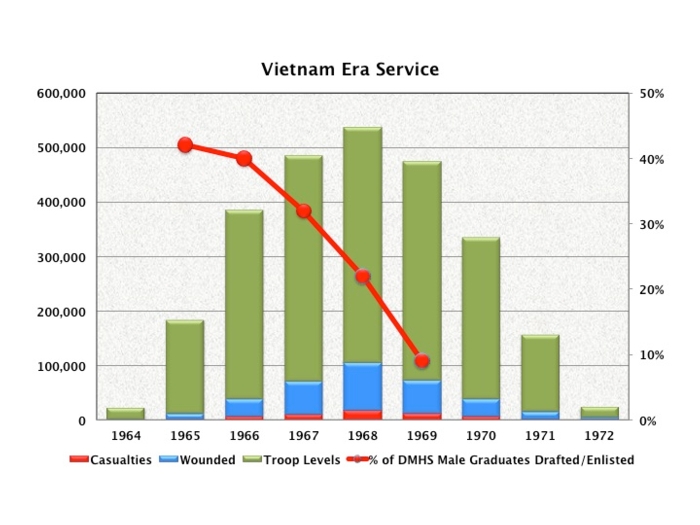 Utilizing the percentages displayed on the right side of the chart, it is clear the number of Douglas MacArthur High School students entering military service also saw a dramatic reduction. From over 42% of our 1965 male graduates, to less than 10% of the 1969 male graduates.
As children, we were well acquainted with both military service and the draft. Our fathers and uncles served during World War Two and Korea. We watched Audie Murphy survive over 44 war films and had seen Elvis DRAFTED.
In this iconic photograph, taken June 5th 1944, on the eve of D-Day, and later used as the background on Eisenhower's 1990 Commemorative postage stamp, General Eisenhower is shown speaking to paratroopers of the 502nd Infantry, 101st Airborne Division. Earlier that day, 'Ike' was told 50% of the paratroopers would not survive the night assault on Normandy.
The 1st lieutenant standing directly in front of Eisenhower is a Saginaw native, a graduate of Arthur Hill High School. His name is Wally. It is - his 22nd birthday. The 23 around his neck designates his aircraft. He will be the last man to board…the first man to jump.
A citizen-soldier, he would return home after the war; to raise a family and operate a business in Saginaw until his death and internment in Arlington National Cemetery.
Together with other veterans and parents, Wally attended Douglas MacArthur High School's graduation ceremony in June 1968. There he watched his daughter and our classmate, Susan Strobel, receive her diploma.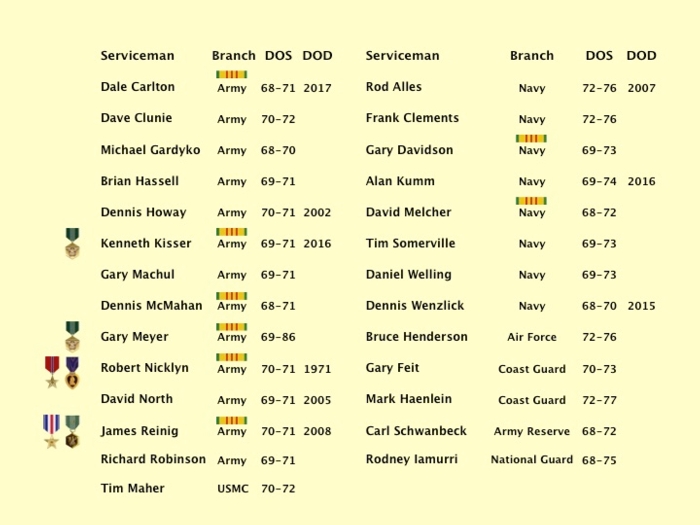 27 members of the class of 1968 are known to have served during the Vietnam Era:
16 – enlisted in the Army, Navy, Air Force, Coast

Guard, Army Reserve and National Guard.

Some would enlist because they wanted to

serve their country.

Several enlisted to obtain a marketable skill.

While others would enlist to avoid being

drafted into the Infantry.

10 – would be drafted into the Army.

1 – was surprised to learn - when the Marine Corp

needs a few good men – they could and would

draft them!

Dale Carlton was the first to enlist, just 2-weeks

following graduation.

I

[Mike Gardyko]

would be the first drafted, 3-months later in

September of 1968.

8 would serve in Vietnam.

BUT only two, ONLY TWO, both of them drafted,

would serve in the Infantry – fighting for their lives

in Vietnam.

Bob Nicklyn would lose his fight.

Jim Reinig would leave Vietnam with medals for

Gallantry and Valor in combat, but Vietnam would

never --- never leave him.
PAUSE
An infantry soldier in the South Pacific during World War 2

experienced, on average, 40 days of combat in 4-

years.

In Vietnam, due to the mobility of the helicopter,

the average soldier in the infantry saw over 200

days of combat in just one year.

Veterans from all branches of military service

both respect and honor the service of a combat

infantry soldier.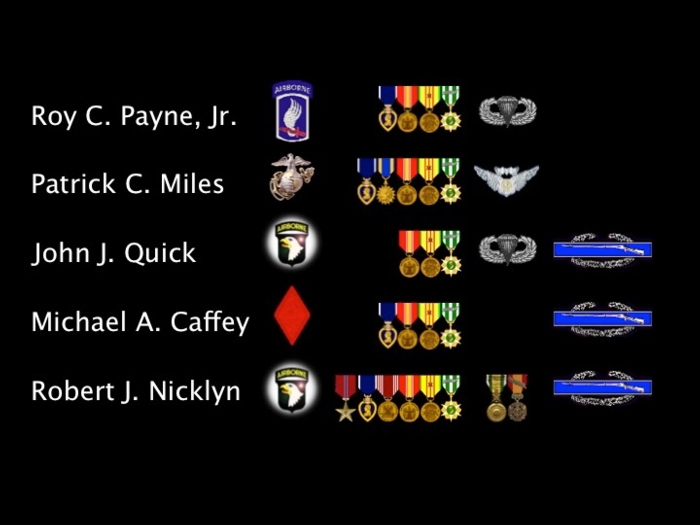 Five names on the Vietnam Wall in Washington D.C. are Generals – Douglas MacArthur High School Generals.

Roy Payne, Jr., Class of 1965, served as a paratrooper in the 173rd Airborne Brigade assigned primarily to headquarters duties. During a November 1967 combat operation, he died in one of the worst friendly fire incidents of the Vietnam War.
Ironically, our high school's first casualty occurred during an operation code named – MacArthur!

Patrick Charles Miles, Class of 1965, served as an Aviation Electronic Systems Technician and Door Gunner aboard a Sea Knight, an assault and transport helicopter in Squadron 262, 1st Marine Aircraft Wing.
In August 1968, during an attempt to rescue the downed crew of another aircraft, his helicopter received a direct hit from a North Vietnamese heavy artillery round. The two pilots were ejected during the ensuing explosion and survived, while their crew of three did not.

John Quick, Class of 1966. His exploits in the jungles of Vietnam are cited in at least two published books. John left school in October 1965 and enlisted prior to graduation. He served first as a paratrooper in the 82nd Airborne Division, Fort Bragg, NC. There he attended Ranger school and developed both stealth and uncanny survival skills.
John volunteered for Vietnam and assignment to the LRRPs of the 101st Airborne Division. LRRPs are Long Range Reconnaissance Patrols - teams of six men, silent invisible men, heavily armed, who patrol deep into enemy territory for long periods of time. These were elite paratroopers with a casualty ratio of 1 to 400 of their enemy.
John had many close calls and near death experiences in Vietnam. None were closer than his last patrol, but he is remembered most for his last night in Vietnam.
The night before John was to leave base camp for Bien Hoa to begin his journey home, he had a party. It was a raucous party with his fellow LRRPs and a chopper crew that had recently saved his life.
John drank heavily. John Quick was known to eat almost anything he foraged in the jungle when on patrol – RAW. Someone arrived with a colorful toad from the paddy by the chopper pad. Someone else made a DARE and John – swallowed the toad WHOLE.
The next morning John missed his chopper to Bien Hoa. The company clerk found John in his bunk. The excessive amount of alcohol he'd consumed together with the toad's toxic skin had caused John Quick's heart – TO STOP.
Of the over 58,000 names on the Vietnam Memorial in Washington D.C. – more than 11,000 died from accidents, illness and other causes, not from wounds suffered during combat. Neither they nor John Quick were awarded the Purple Heart as they were not lost in a hostile action.

Michael Caffey, Class of 1966, served as a Infantryman in the 5th Infantry Division. He lost his life during an assault on his defensive position in Aug 1970.

Robert Nicklyn, Class of 1968, served as a Combat Infantryman & RTO - Radio Telephone Operator in the 101st Division (Airmobile).
Bob knew his job and he was good at it. Able to read a topographical map, he'd call in precise coordinates for artillery and air support. Working closely with his Non Com, SGT Tony Dooley, he kept his squad safe.
In April 1971, Bob and SGT Dooley were shot during an ambush on his 107th day in Vietnam. He and the sergeant had been targeted in an attempt to eliminate both communication and command.
In Vietnam, Bob was called 'Nick' by his squad members. Most of his classmates at Douglas MacArthur called him friend. Tonight we are reminded of his good nature, humor and that infectious Nicklyn smile.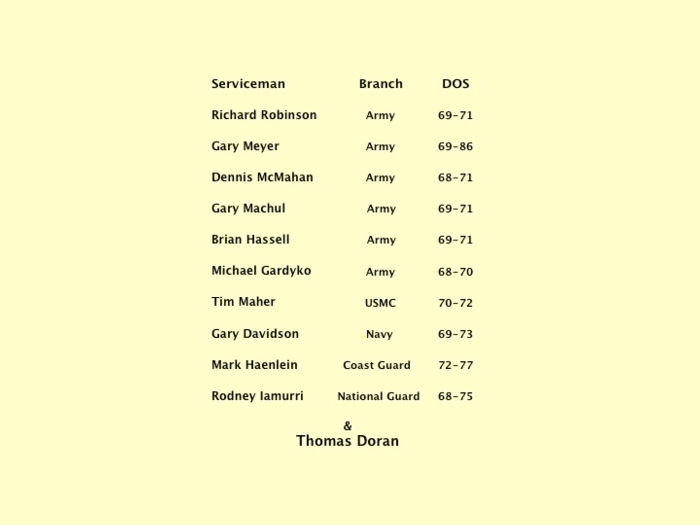 I'd like to take a moment to recognize the veterans who donated to our Veterans' Projects.
Their donations were used to:
Fund honorariums for the Heritage High School student photographers, who otherwise volunteered their time for tonight's event.

We also purchased memory cards for their cameras. The pictures will be uploaded to the Google Cloud allowing everyone to download their favorite reunion pictures free of charge.

A few other supportive reunion expenses were paid as well as two major projects I will tell you about soon.
But first, please note the last name on the list. Tom Doran, is not a veteran. Regardless, Tom made a personal donation to the veterans' fund of $500 and we are very grateful for his support.
PAUSE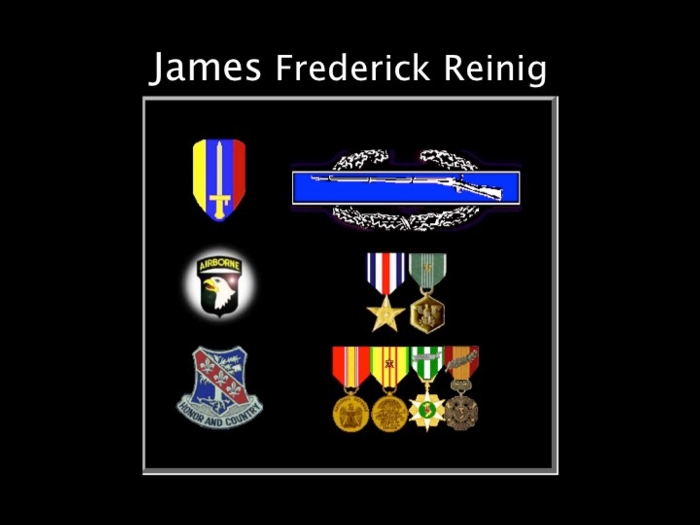 For gallantry in action, PFC Reinig was awarded the Silver Star Medal, the Armed Forces' third-highest personal decoration for valor in combat. Less than six weeks later, newly promoted, Specialist Reinig distinguished himself once again and was awarded the Army Commendation Medal with "V" Device, the Army's fifth-highest personal decoration for valor in combat.
Jim participated in numerous actions throughout the three most northern provinces of South Vietnam. After 350 days in-country, he was promoted to Sergeant.
Although Jim would leave Vietnam, his Vietnam experiences would never leave him. He soon began exhibiting symptoms of Post Traumatic Stress Disorder. Like a minority of servicemen who are symptomatic for 15 or more years, he suffered increases rather than decreases in the severity of his symptoms.
Combat veterans suffering from PTSD have a very high risk of developing cardiovascular diseases. Ten years ago, Jim suffered a fatal heart attack.
PAUSE
Less than a year before his death, Jim sought help. The VA rated him 50% disabled and provided him treatment. Jim participated in group therapy where he provided needed leadership to younger combat veterans who had served in Afghanistan and Iraq.
Earlier this year, Jim's sister Mary signed forms that allowed me access to Jim's military and VA records. She loved her brother and sought answers to her many questions. Mary also signed a form that …. Well, I didn't tell her why because the request often takes over a year to fulfill.
However, the congressional office of a former Marine LT General expedited the request!
PAUSE
The graphic slides presented tonight, were created by my in-house IT specialist, my 17 year-old son, Michael Gardyko, Jr. And I thank him, but…
...I prefer the look and feel of reality. The sight and touch of paper, cloth and medal – don't you?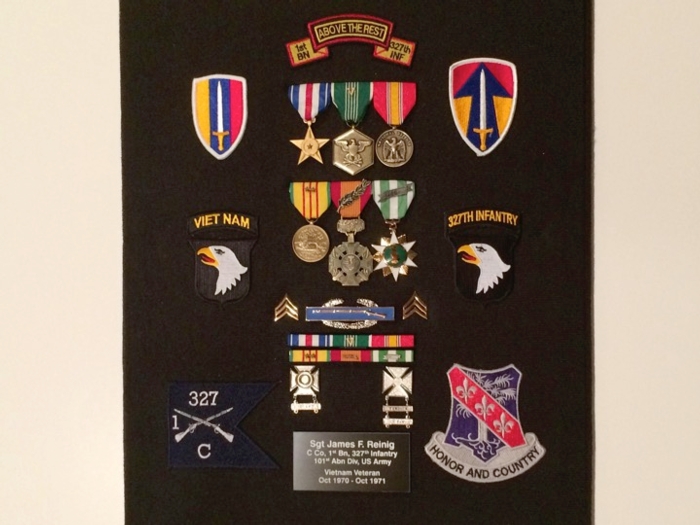 Mary, Tom, Marsha [Reinig siblings in attendance] – the Army reissued Jim's 4 US medals.
Veterans' Project funds were used to acquire Jim's 2 Republic of Vietnam medals, his badges, unit and rank insignia.
Tonight, we present them to his family to acknowledge Jim's service and his family's sacrifice.
PAUSE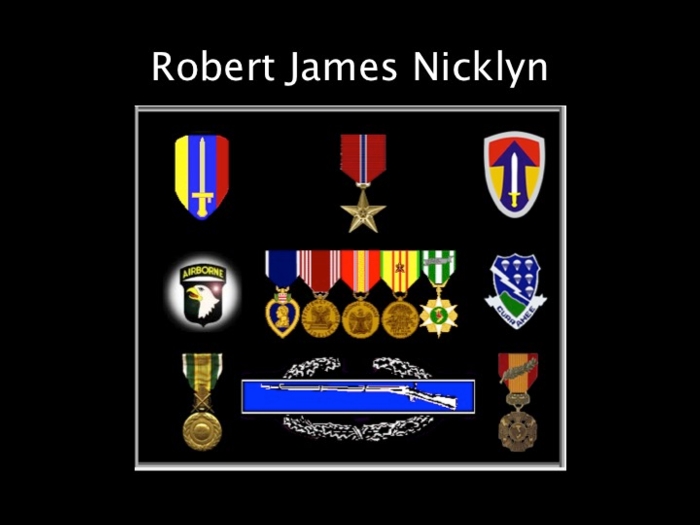 Last October, Freedom of Information requests were filed for each of our nine deceased veterans. Their publicly viewable military files were received in late July 2018. We learned that Bob Nicklyn had been awarded five medals postumously. Four of these medals, 2 US and 2 Republic of Vietnam had not been issued to Bob's family.
The unissued medals awarded were:
• the Republic of Vietnam Gallantry Cross with Palm,
• the Republic of Vietnam Military Merit Medal. South Vietnam's highest medal for valor; essentially their Medal of Honor,
• the US Good Conduct Medal, and
• the US Bronze Star
We have assisted the Nicklyn family in filing the appropriate paperwork to have all Bob's medals issued to the family. However, the Army does not issue or replace foreign awards.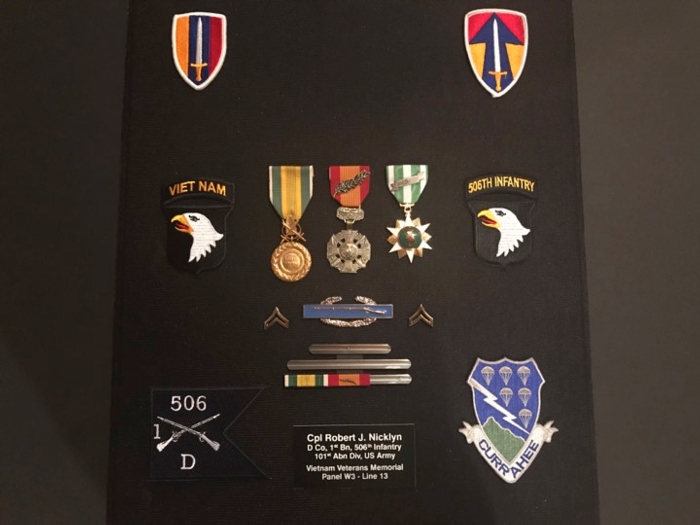 Veterans' Project funds were used to acquire Bob's 3 Republic of Vietnam medals, his badges, unit and rank insignia. As it is very rare, the Republic of Vietnam Military Merit Medal had to be acquired from a collector.
As the long process of obtaining the US medals has just begun, we will not be able to complete Bob's shadow box until next year. We look forward to completing this project and presenting the medals to the Nicklyn family.
Nicklyn Medals Presentation - Click to view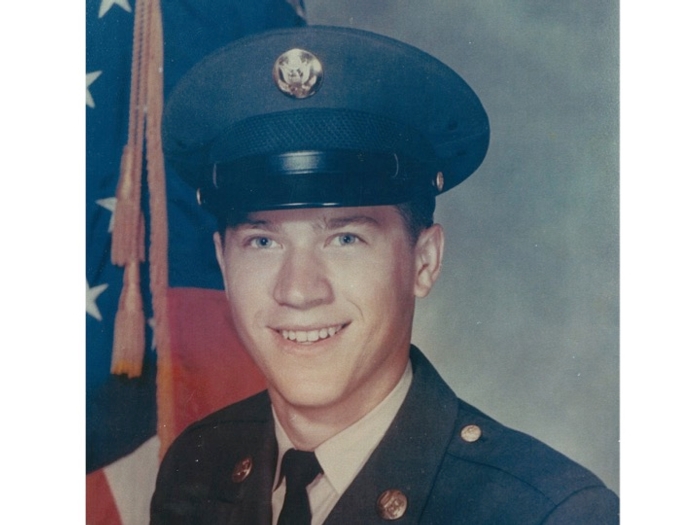 I end with this picture of Bob displaying that Nicklyn smile 7-weeks into his Basic Training.
I began working with Nancy Ollerman Myron locating classmate obituaries on the web last summer. Nancy posted the limited information provided by the 'Virtual Wall' website to Bob's profile. I thought it was inadequate. I decided to write an expanded profile on each deceased serviceman from our class, but that didn't workout.
Faced with the indifference of surviving family members with little or no service information, the project was reduced to the four deceased classmates who had served in Vietnam; Dale Carlton, Bob Nicklyn, Jim Reinig and Ken Kisser.
The Veterans' Project has occupied my time and my life for the past year. I spent hours talking with men from Bob's unit and the man who was with Bob during his final moments.
I learned that everyone who knew Bob – loved him!
He was simply a good and kind person.
Jack – Dennis [Nicklyn siblings in attendance], Bob's sergeant Tony Dooley, as well as Gary Higgins and Mike Wilson, both of the 506th, have asked that after we have been issued Bob's medals, the Nicklyn family allow their attendance at the presentation.
They are hopeful to meet as many Nicklyns as can be gathered, that they may honor their fallen brother with all his brothers and their families.
Nicklyn Medals Presentation - Click to view
PAUSE
Thank you for your kind attention.
Presented by Michael Gardyko, September 15, 2018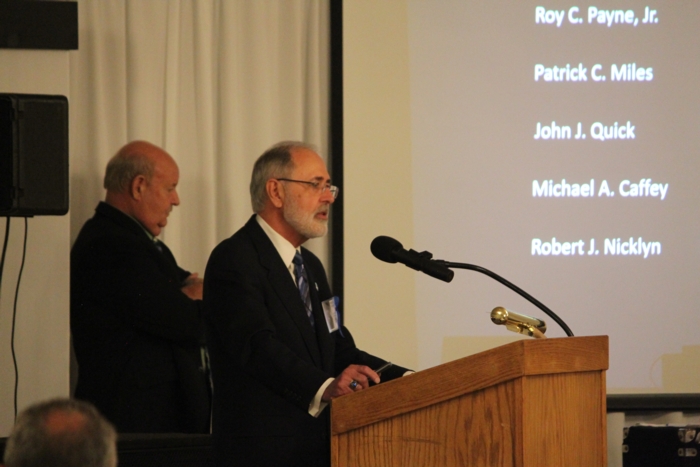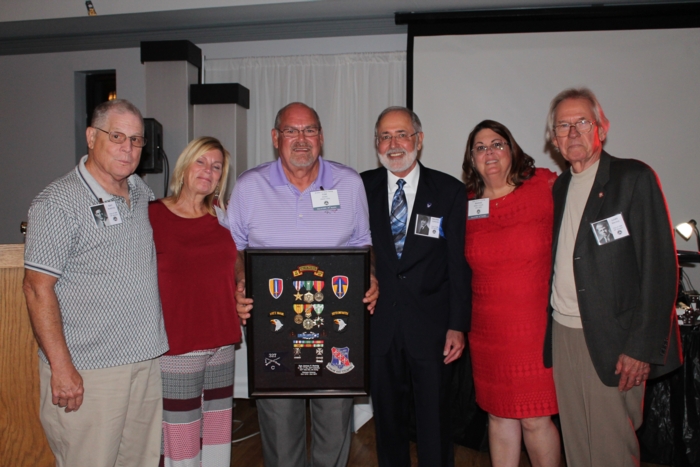 Left to right: Ray Burzyck, Mary Reinig Schwarck (DMHS 1970), Tom Reinig (DMHS 1970), Michael Gardyko, Marsha Reinig Caylor (EHS 1979) and Gary Machul